When:
15 June, 2019 – 16 June, 2019
all-day
2019-06-15T00:00:00+01:00
2019-06-17T00:00:00+01:00
Where:
Silverstone Circuit
Silverstone
Towcester NN12 8TN
UK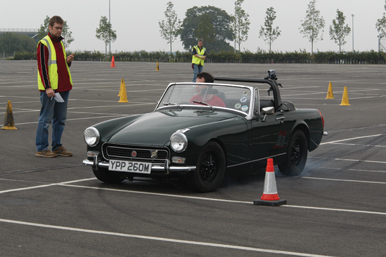 Autotests are one of the most popular competitive events organised by the Club's Centres and Registers. The Club's major autotest meeting is the annual California Cup held at the Silverstone International Race Meeting which also includes the prestigious BMC Trophy for the Inter-Centre competition.
An autotest, or driving test as they used to be called, consists of a series of timed manoeuvrability tests set out on hard-standing or grass.Cars run singly and are timed with penalties applied for touching pylons, failing to stop astride lines or other driver errors.Most MG Car Club autotests have classes for front and rear wheel drive cars and, of course, classes and awards for all MG models.
Drivers do not have to have competition licences. Autotests have the minimum of regulations and are thus popular and informal events.